All-Purpose Quick Mix
Waffle Mix
Meet our most versatile dry mix yet! We have 5 recipes that use our All-Purpose Quick Mix, but don't let that stop you. If you feel so inclined you can even use our dry mix to whip up your own favorite bread recipe. It can be used in the same way a Bisquick dry mix would be... but ours is student-made!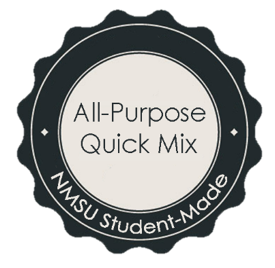 Waffle Recipe
588g All Purpose Quick Mix
473g Water
1 large whole egg
100g of Granulated Sugar
140g Unsalted butter
4g Vanilla
Directions:
Melt butter. Mix all ingredients; cream butter, sugar, and brown sugar. Add eggs and vanilla. Add dry ingredients.
Preheat waffle iron
In a large mixing bowl, beat eggs until fluffy
Add waffle mix, and stir
Add the remaining ingredients, and mix until smooth
Spray waffle iron with nonstick cooking spray
Pour mix into hot waffle iron
Cook until golden brown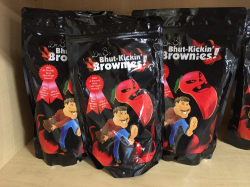 Dr. B's Bhut Kickin' Brownies
Our first product ever developed and produced on a large scale!
Meet the hottest chile brownies you will ever come across! Meet Dr. B's Bhut Kickin' Brownies: formulated, produced, and packaged by NMSU students. They are the only brownies that incorporate the Bhut Jolokia Chile Pepper for the hottest kick you will ever find in a delicious batch of double chocolate brownies. They can be purchased at the Sam Steel Cafe (since they are student-made) or The Chile Pepper Institute both located in Gerald Thomas Hall.
Students get to see it from production to retail.
Double Chocolate Brownie Mix
Wholesale Orders for Dry Mixes
For any Special Orders contact: acesfood@nmsu.edu
Dry Mixes:
Double Chocolate Brownie Mix......$5
Hot Chocolate Mix (12oz)................$4
Dr. B's Bhut Kickin' Brownie Mix.....$6
All-Purpose Quick Bread Mix..........$4
Picacho Coffee Roasters
Roasted Coffee (12oz)....................$9.... (5lb).....$55
Minimum Order of 10 items