Drink More Milk, Eat More Gelato!
Three Reasons You Will Love to Eat Our Gelato & Sorbet
Better Ingredients: We use locally grown New Mexico pecans from our very own Legacy Pecans. We also use Picacho Coffee Roasters for our coffee flavored gelatos: Coffee Gelato, Mocha Gelato, and Caramel Macchiato Gelato.

Traditionally-Crafted: We make our Gelato & Sorbet with the traditional (Sicilian) techniques and with the authentic equipment (Carpigiani) we brought over from Bologna (Florence), Italy.

Freshly Made: Freshly made add-ins to which include- Pecan Pie, Tres Leches Cake, Cookie Dough, Brownies, Chocolate Cheesecake, and Cranberry Sauce.
ACES Foods Gelato & Sorbet will always be far fresher than our competitors that pre-pack and ship across the country. When you buy a pint of a gelato & sorbet you are contributing to a student's education.
What is Gelato?
Gelato is basically the Italian counterpart to ice cream. It's frozen dairy dessert from a base, milk, cream, and sugar.
So what exactly, you may ask, is the difference between gelato and ice cream?
Gelato has a lower fat content, less air incorporated into which stems from the machines that we use

Carpigiani

. Gelato has also a much lower percentage of butterfat than ice cream, coming in between 4.8% versus ice cream's 14%.
What is Sorbet?
Sorbet is a delicious frozen dessert made up of fruit, sugar, and water.
Dairy-Free
Gluten-Free
Fat-Free
Vegan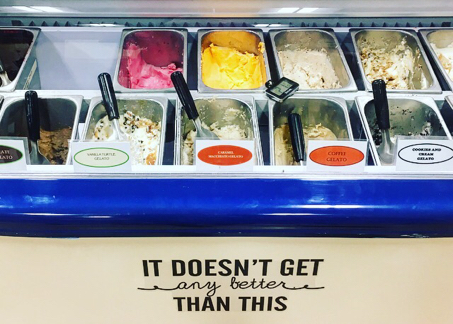 Wholesale Orders for Gelato & Sorbet
For any Wholesale Orders contact: acesfood@nmsu.edu
Gelato
Biscoff
Butter Pecan
Caramel Macchiato
Chocolate Bourbon Caramel
Chocolate Fudge Brownie
Chocolate Hazelnut
Coffee
Cookies & Cream
Cranberry
Green Mint Chip
Irish Cream
Lemon
Mango
Orange & Cream
Pecan Pie
Pink Grapefruit
Strawberry
Sweet Chocolate
Tres Leches
Vanilla Bean
Vanilla Fudge Brownie
Vanilla Turtle
Sorbet
Blackberry
Blackberry Cabernet
Blood Orange
Cherry Limeade
Coconut Margarita
Dark Chocolate
Green Chile Lime
Lemon
Margarita
Peach
Pear
Pineapple
Pomegranate
Raspberry
Red Chile Pineapple
Strawberry
Strawberry Mango
Minimum Wholesale Orders for Gelato & Sorbet:
1/2 gallon.................$12
1 gallon....................$22
3 gallons..................$48
Items from this list must be purchased in quantities of 3 of the same size or more to qualify for wholesale pricing listed.